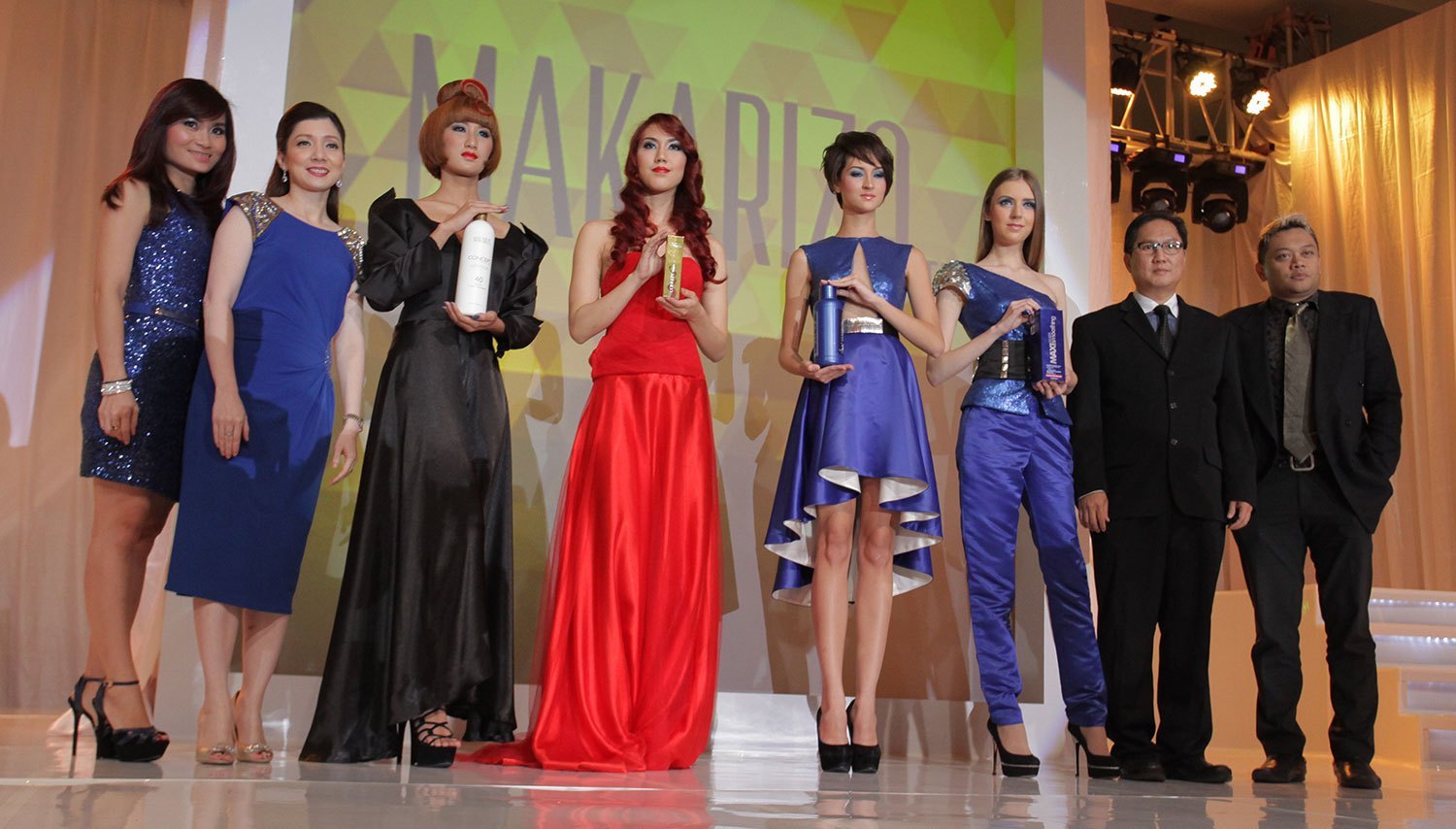 Makarizo Launches a New Smoothing and Colorant Product in 2014
This early 2014 is going to be a year of impression for Makarizo. Last Wednesday, March 19, 2014, Makarizo has launched its newest products, MAXI smoothing and Concept Ultimax in Jakarta.
"The double digit growth of professional hair salon industry these past 3 years and the more professional players involved in this industry has pushed us to give and to understand our partners needs which include the hair smoothing category" Martin Jimmy the president director of PT.Akasha Wira International stated. Martin also said that MAXI smoothing allows less time for hair stylish to do this treatment as it's only going to take 30 minutes of absorption process without elasticity checking like other products do.
Mean while Jennifer R. Avacenna – Strategic Marketing Director of PT.Akasha Wira International Tbk revealed their research on hair smoothing. Research showed that respondents have to have another smoothing treatment after 4 months because the hair starts to unfurl. Seeing the situation, we invented a long lasting smoothing cream which can last up to 6 months. This is what makes Maxi smoothing more excellent.
Maxi smoothing is being made appropriate with consumers' different hair kind and condition. There are 3 variants available; for the virgin/resistant hair, for hair which has not been through bleaching process and hair which has been through bleaching. The Brand Manager of MAXI smoothing, Ellise Irine Yosefi added that Maxi Smoothing is ammonia free so it is 100% safe for the hair. The Grape seed extract, soy protein and keratin will give more nutrition to your hair. It also makes your hair shinier and softer. So you can sent your worries away after the smoothing process, because there will be no dry of broken hair after wards. Tristan Hall, an international hair dresser from UK brought 6 attractive hair styles for straight hair at the same occasion. He made a short, medium and long hair style for straight hair.
Concept Ultimax brings you Red color series at the beginning of the year
The maxi smoothing and concept Ultimax launching with 700 professional salon guests from all over Indonesia has been one of the most expected occasion for all the professional hair stylish. Makarizo launched Concept Ultimax as a hair colorant treatment with 10 natural ingredients known as KR+8 combined with crystal pigment to give a long lasting multi dimension color.
Concept Ultimax launched 25 assorted color from reddish to brownish as a beginning." There will be up to 80 assorted colors in short time to spoil the hair fashion lovers so that they can change their hair color without have to be worried that their hair is going to be dry, broken or chapped" said Omar pane the Brand Manager of Concept Ultimax. "The first colorant concept we launch today is Red Animation with great variation of seducing red", he added. Makarizo will launch different color every season through out this year.
The red colorant portfolio brought to you through crimson lava, dazzling evening and blissful breeze, inspired from the rapid changes of the weather. Crimson lava presents a bob hair cut with high bun accent wrapped by a burst of gold color with red highlight to show the existence of an active volcano. While dazzling evening with its wavy style brings out the glamorous enchantment of sunset colors with a soft bayalage gradation technique which gives an elegant red. While blissful breeze represents modern women who are distinct yet enchanting with a touch of dark mahogany blonde mixed with highlight foil technique which enrich the color gradation and it wavy structure. The red colorant series were brought to you by  Makarizo's  artistic team and a famous Indonesian hair dresser Michael Zimbalist.